Now that the world is opening up again, this summer you may want to have guests over your house for a get together. This Florentine Turquoise cup and saucer would be great to have at your gathering!
The Florentine Turquoise design is inspired by the Renaissance of Florence  Italy. The design has been manufactured since 1931. This design is the longest running production of all there styles. This tea cup is the best selling one of all their collections. Since the design is so popular, they are still selling it today.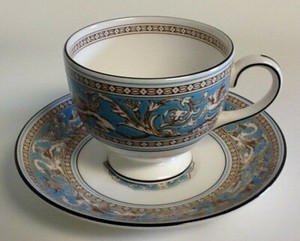 One thing to love about this cup and saucer is the textile is so eye catching and beautiful. Your guest will not only be raving about the food, but also the lovely table decor featuring this beautiful china.
So come start your collection of Wedgwood at Castello to be sipping in nothing, but greatness!
Written by: Bryanna Ostmann, Castello's Personal Stylist